Watch this free webinar presentation "How I Was Able to Triple Lead Engagement Through Analytics & Automation" with Peter Vitale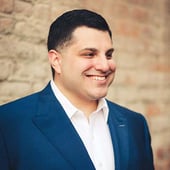 We've all heard the old adage – "work smarter not harder" and it's no different when it comes to insurance sales. If you're looking for ways to work leads more strategically, award-winning agent Peter Vitale shows us how he has been able to automate processes to save serious amounts of time, and that have helped triple his engagement rate with leads.

He also shares data on conversion – how many touches it takes on average, the average sales cycle, and the number of touches required by channel (calls, texts, mail, etc.). All the systems and processes Peter shares – whether automated or manually done – will be effective and can help you see the same results he has achieved.
By clicking "Watch Now" I consent by electronic signature to being contacted by EverQuote, including by automatic telephone dialing and/or an artificial or prerecorded voice (including SMS and MMS - charges may apply), regarding EverQuote for Agents, even if my phone number is listed on a Do Not Call Registry. I also understand that my agreement to be contacted is not a condition of purchasing any goods or services, and that I may call (844) 707-8800 to speak with someone about EverQuote for Agents.