Retired agent Scott Foster almost needs no introduction. He's a lifetime President's Club member (he qualified for President's Club over 80 times!), has been in the top 10 life agents (with his carrier) every year of his 40+ year career, and spent 24 years as the #1 life agent and 21 years as the #1 multiline agent at his company. It's fair to say that Scott is probably one of the most successful captive insurance agents of our time (particularly when it comes to selling life).
Join Scott for a webinar on "Controlling the Life Insurance Sales Conversation" with EverQuote and hosted by Chandler Hahn. Scott will share his approach to selling life insurance and discuss how to control the life insurance sales conversation (even in difficult circumstances).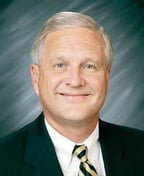 By clicking "Register Now" I consent by electronic signature to being contacted by EverQuote, including by automatic telephone dialing and/or an artificial or prerecorded voice (including SMS and MMS - charges may apply), regarding EverQuote for Agents, even if my phone number is listed on a Do Not Call Registry. I also understand that my agreement to be contacted is not a condition of purchasing any goods or services, and that I may call (844) 707-8800 to speak with someone about EverQuote for Agents.