Watch multiple-award-winning agent, author and speaker Thomas Ntuk's free webinar presentation: "The 4 Crucial Steps Every Insurance Agent Should Take to Improve Customer Retention" with Thomas Ntuk (hosted by Chandler Hahn)
Join Thomas and EverQuote and learn how you can start retaining more business and generating more profit today!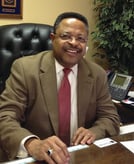 Agents tend to spend a lot of time and money on obtaining new business. But many
are losing out on significant revenue by not having a strong retention strategy in place. Duringthis joint webinar with EverQuote, Thomas will share 4 critical steps that you can take immediately to start improving your customer retention.
By clicking "Register Now" I consent by electronic signature to being contacted by EverQuote, including by automatic telephone dialing and/or an artificial or prerecorded voice (including SMS and MMS - charges may apply), regarding EverQuote for Agents, even if my phone number is listed on a Do Not Call Registry. I also understand that my agreement to be contacted is not a condition of purchasing any goods or services, and that I may call (844) 707-8800 to speak with someone about EverQuote for Agents.