Watch multiple-award-winning agent, author and speaker Thomas Ntuk's free webinar presentation: "Hit Your Year End Targets: How to Write More Life and Close Out the Year Strong!" (hosted by Chandler Hahn).
Join Thomas and EverQuote and learn ways to close out the year strong!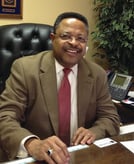 During this webinar, Thomas will share a range of highly effective ideas to help you get more life apps and ultimately drive in more life premium over the final stretch of the year. If you're working to close out the year strong and exceed your goals, right now is the perfect time to shift your strategy into high gear. In this presentation Thomas shows you how to do just that in his trademark easy to understand approach that makes his presentations so effective.
By clicking "Register Now" I consent by electronic signature to being contacted by EverQuote, including by automatic telephone dialing and/or an artificial or prerecorded voice (including SMS and MMS - charges may apply), regarding EverQuote for Agents, even if my phone number is listed on a Do Not Call Registry. I also understand that my agreement to be contacted is not a condition of purchasing any goods or services, and that I may call (844) 707-8800 to speak with someone about EverQuote for Agents.