Watch Insurance Sales Lab founder Vlad Cherchenko in a joint webinar with EverQuote – "AI for Insurance Agents – How You Can Use ChatGPT to Better Run Your Agency"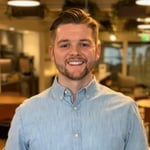 It wouldn't be difficult to make the case that the latest developments and applications of Artificial intelligence (AI) constitute some of the biggest technological advances of recent years. Right now, businesses across a plethora of industries are making use of AI in ways that seemed unimaginable even just a decade ago. But how can insurance agents take advantage of this new technology?

In this webinar, captive agent (and founder of Insurance Sales Lab) Vlad Cherchenko will show us how you can leverage an amazing new tool – ChatGPT – to handle a range of time consuming tasks at your insurance agency. And the best part is that right now you can take advantage of this tool absolutely FREE. Join EverQuote and Vlad to see how ChatGPT can save you time and money, and become an integral part of your agency's operations.
By clicking "Watch Now" I consent by electronic signature to being contacted by EverQuote, including by automatic telephone dialing and/or an artificial or prerecorded voice (including SMS and MMS - charges may apply), regarding EverQuote for Agents, even if my phone number is listed on a Do Not Call Registry. I also understand that my agreement to be contacted is not a condition of purchasing any goods or services, and that I may call (844) 707-8800 to speak with someone about EverQuote for Agents.