Back in 2014, Vlad got into the insurance industry without having any phone sales experience. Within 9 months of being a sales producer, he developed a sales process that helped him consistently write over 150 policies a month as a single producer!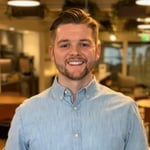 This webinar cuts right to the chase and reveals how many other insurance agents consistently write 100-300 policies a month by using this sales script.

Don't miss out on this amazing opportunity to learn this powerful insurance sales process and script!
Who should watch? Anyone who works in the insurance industry, including:
New insurance agents

Veteran agents

Producers and agency team members



By clicking "Watch Now" I consent by electronic signature to being contacted by EverQuote, including by automatic telephone dialing and/or an artificial or prerecorded voice (including SMS and MMS - charges may apply), regarding EverQuote for Agents, even if my phone number is listed on a Do Not Call Registry. I also understand that my agreement to be contacted is not a condition of purchasing any goods or services, and that I may call (844) 707-8800 to speak with someone about EverQuote for Agents.