Watch Insurance Sales Lab founder Vlad Cherchenko in a joint webinar with EverQuote – "Follow this Word For Word Script To Cross-Sell Life Insurance To Existing Clients".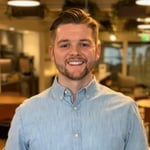 When it comes to selling insurance, the pivot to life products can seem challenging to many agents and producers. Whether it's working with an auto insurance customer or having a service conversation with a current home client, cross-selling life to existing clients is a crucial revenue driver for some of the most successful agents in the industry.
Over the last four years, Vlad has been working with some of the biggest captive agents and independent brokers to help them establish systems in their agencies so that their sales producers could write 100+ policies a month.
During this webinar, Vlad Cherchenko (founder of Insurance Sales Lab) will walk you through his step-by-step script for cross-selling life to existing clients. You'll learn the exact word tracks that you can use to start selling more life today!
By clicking "Watch Now" I consent by electronic signature to being contacted by EverQuote, including by automatic telephone dialing and/or an artificial or prerecorded voice (including SMS and MMS - charges may apply), regarding EverQuote for Agents, even if my phone number is listed on a Do Not Call Registry. I also understand that my agreement to be contacted is not a condition of purchasing any goods or services, and that I may call (844) 707-8800 to speak with someone about EverQuote for Agents.