Watch Insurance Sales Lab founder Vlad Cherchenko in a joint webinar with EverQuote – "How To Hire 3 HIGH PERFORMING Sales Superstars In Less Than 90 Days (GUARANTEED)"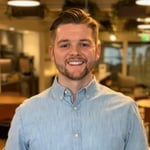 Hiring top performers is a constant struggle for so many insurance agencies – it can feel like an uphill battle to find consistent, reliable team members, let alone sales superstars that can help take your agency to the next level. During this training,Insurance Sales Lab founder Vlad Cherchenko walks you through a process you can use to find, assess, and hire 3 top-performing sales A-players in less than 90 days - GUARANTEED. If hiring top talent is a struggle for your agency you should definitely make time for this training!
By clicking "Watch Now" I consent by electronic signature to being contacted by EverQuote, including by automatic telephone dialing and/or an artificial or prerecorded voice (including SMS and MMS - charges may apply), regarding EverQuote for Agents, even if my phone number is listed on a Do Not Call Registry. I also understand that my agreement to be contacted is not a condition of purchasing any goods or services, and that I may call (844) 707-8800 to speak with someone about EverQuote for Agents.