Watch Insurance Sales Lab founder Vlad Cherchenko in a joint webinar with EverQuote – "How To Take Effective SALES NOTES When Working Insurance Leads"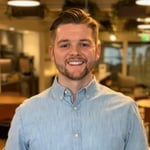 TRUE or FALSE: If team members paid for the internet leads themselves, they would work them more diligently. Most agents would agree with that statement! During this training, Insurance Sales Lab founder Vlad Cherchenko teaches you how your agency can be more organized with how you document notes with insurance leads and in other common sales scenarios.
By clicking "Watch Now" I consent by electronic signature to being contacted by EverQuote, including by automatic telephone dialing and/or an artificial or prerecorded voice (including SMS and MMS - charges may apply), regarding EverQuote for Agents, even if my phone number is listed on a Do Not Call Registry. I also understand that my agreement to be contacted is not a condition of purchasing any goods or services, and that I may call (844) 707-8800 to speak with someone about EverQuote for Agents.