What do you say when an insurance lead objects to your sales call?
Instead of panicking, try the four sample scripts outlined in this guide.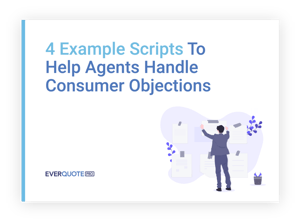 Most insurance agents wish they had a better way to handle common objections from consumers—now you do. In this guide you'll learn ways you can and should respond when leads tell you the following:
"I didn't request a quote."

"I've been called too many times."

"Stop calling me! I wanted to do this online!"

"I can't talk right now."
Download the sample scripts—and tips for making scripts work—today for better sales conversations, and more closed deals.
Interested in EverQuote? Speak with an EverQuote Account Executive: