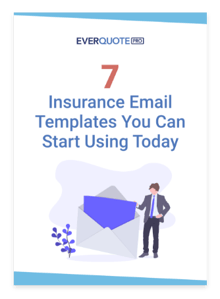 Are the emails your team sends consistent, clear, and systematic?

One-off, ad hoc emails can confuse prospects, annoy customers, and dilute your brand messaging. We've got a better way.
The average ROI of an email is significantly higher than any other marketing channel—but too many agents aren't emailing prospects and customers the right way. Are you one of them?
In this free guide, you'll get seven templates for all stages of the sales process, including:
Prospecting and sales
Engaged prospects
Customers
Make the most of this powerful marketing tool. Download these email templates today.
Interested in EverQuote? Speak with an EverQuote Account Executive: