As the insurance market continues moving toward digital marketing & branding, agents who are able to build a strong online presence are finding incredible success. Agency owner Danielle Waller happens to be one of those agents! Join Danielle in this webinar: "Building Your Brand Without Breaking the Bank" hosted by Chandler Hahn.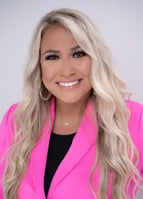 During this presentation Danielle will walk us through how she was able to brand herself online with such impressive results. From things like connecting with business owners, recruiting team members in a competitive market & hosting large scale local events at her agency, Danielle will share how she has been able to build her brand without breaking the bank! She'll also be sharing her top tricks and tips for those that want to take their agency to the next level in this new digital space.
By clicking "Watch Now" I consent by electronic signature to being contacted by EverQuote, including by automatic telephone dialing and/or an artificial or prerecorded voice (including SMS and MMS - charges may apply), regarding EverQuote for Agents, even if my phone number is listed on a Do Not Call Registry. I also understand that my agreement to be contacted is not a condition of purchasing any goods or services, and that I may call (844) 707-8800 to speak with someone about EverQuote for Agents.