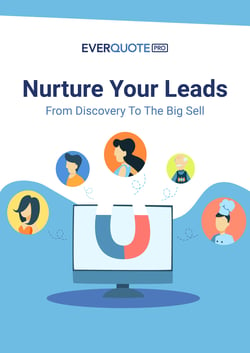 Nurture Your Leads: From Discovery To The Big Sell
Learn the exact step-by-step process successful insurance agents use to nurture their leads from day one through to a closed sale—and how you can adapt this proven method for your business.
Internet leads can help grow your insurance business, but only if you know what to do with them once you buy them. Too many agents squander their purchased leads, losing out on countless sales opportunities.
With the help of this free guide, you can avoid that mistake. You'll learn:
The detailed, proven process for closing more sales with internet leads
Communication tactics for Day 1 through Day 86 (and beyond)
How to adapt this plan for your own agency
How using these steps can set you apart from your competition
Who should read:
Insurance agents or producers looking to improve their sales results, including:
New insurance agents
Experienced agents who are looking to improve their results with leads or who are entering into a new vertical
Producers and agency team members
Download the ebook today.