Watch top agent Terry Stach's free webinar presentation: "Let It Go and Grow! How to Focus on Your Strengths and Outsource the Rest to Grow Faster"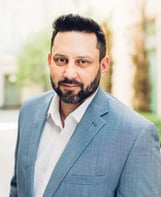 Running an insurance agency requires taking on a wide range of tasks and responsibilities in order to be successful. The problem for agents is that many of these tasks and responsibilities can redirect time and efforts from achieving their agency's core objective - generating revenue.

During this webinar, captive agent Terry Stach shares how he's been able to shift many of those time consuming tasks off his plate by outsourcing. This allows him to double down on what he does best - driving revenue! Terry shares how you can off load some of the biggest time absorbers at your agency and free yourself up to focus on growing your business.
By clicking "Watch Now" I consent by electronic signature to being contacted by EverQuote, including by automatic telephone dialing and/or an artificial or prerecorded voice (including SMS and MMS - charges may apply), regarding EverQuote for Agents, even if my phone number is listed on a Do Not Call Registry. I also understand that my agreement to be contacted is not a condition of purchasing any goods or services, and that I may call (844) 707-8800 to speak with someone about EverQuote for Agents.