Watch award-winning author Troy Korsgaden's free webinar presentation: "Net Gain Growth: Growing Your Business Through Deliberate and Meaningful Client Interactions" with Troy Korsgaden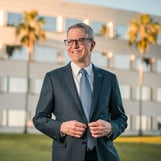 During this exclusive webinar session, best selling author and renowned multi-line insurance expert Troy Korsgaden discusses his proven process for growing your insurance business – from defining leads, through scheduled appointments to conducting powerful meetings. Troy also discusses two of the roles that he attributes to completely transforming his business: the agency contact representative and concierge – and will share how you can implement these in your agency. Join us for this opportunity to learn from one of the preeminent thought leaders in the insurance industry.
By clicking "Watch Now" I consent by electronic signature to being contacted by EverQuote, including by automatic telephone dialing and/or an artificial or prerecorded voice (including SMS and MMS - charges may apply), regarding EverQuote for Agents, even if my phone number is listed on a Do Not Call Registry. I also understand that my agreement to be contacted is not a condition of purchasing any goods or services, and that I may call (844) 707-8800 to speak with someone about EverQuote for Agents.